PHILOSOPHY
The divine law of Allah is the foundation of knowledge. In line with His Will, UTM strives with total commitment to attain excellence in science, technology and engineering for the well-being and prosperity of mankind.
VISION
School of Biomedical Engineering and Health Sciences is committed to be a world-class centre of excellence and a leader in teaching, learning and research in the field of medical engineering, health sciences & sport management.
MISSION
M1: To produce graduates with high ethical values and good professional conduct who are competent in the fields medical engineering, health sciences & sport management.
M2: To spearhead advances in the fields of medical engineering, health sciences & sport management through multidisciplinary research, integrated learning, and global networking.
M3: To fulfill the needs of all stakeholders in producing graduates that contributes towards nation building, wealth creation and sustainable development. To be recognized as a world class centre of academic and technological excellence.
STRATEGIC THRUSTS
T1. Holistic, Innovative and Entrepreneurial Academia
T2. Academic and Research Excellence
T3. Global Prominence
T4. Leading Industry and Community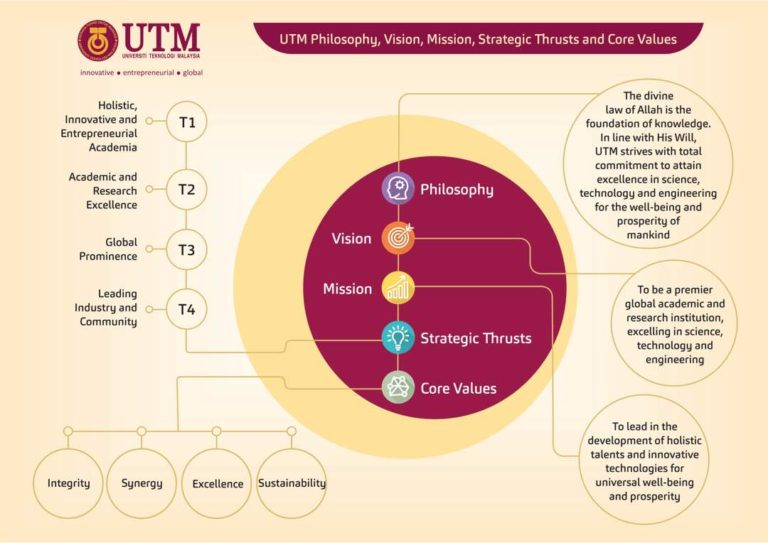 INSTITUTION CORE VALUES
1.   INTEGRITY
Integrity calls for adherence to sound moral values and strong ethical principles. This noble virtue must be internalised in our heart and soul, and manifested in our loyalty, character, conduct, deeds and action with wisdom and trustworthiness.
2.   SYNERGY
Synergy instills team spirit, togetherness, inclusivity, collegiality, respect, humility, cooperation and collaboration. It also breeds selflessness, resulting from care and concern for others above self, while embracing diversity and appreciating differences.
3.   EXCELLENCE
Excellence towards high performance and delivery will result in outstanding and remarkable achievement in all aspects of learning and teaching, research, innovation, commercialization and provision of services.
4.   SUSTAINABILITY
Sustainability is reflected in the holistic drive by the campus community in integrating and balancing economic, social and environmental spheres to meet the current needs without compromising the ability to exist and survive continuously.