Master of Science (Biomedical Engineering)
SBEHS offers a Master of Science (Biomedical Engineering) programme by taught course mode. Students are required to successfully complete a minimum of 45 credits which include at least: (a) five core courses (15 credits), (b) one compulsory university course (3 credits), (c) one university elective course (3 credits), (d) four elective course (12 credits) and (e) dissertation (12 credits).
Project dissertation has a total credit of 12 hours in which it will be divided into 4 credit hours for semester two (Dissertation 1) followed by another 8 credit hours for semester three (Dissertation 2).  Project dissertation has to be submitted at the end of the respective semesters. Course assessment will be conducted via direct (examination, tests, quizzes, assignments) and indirect (peer assessment) methods.
Generic skills will be adapted during teaching and learning process. The programme is expected to produce a practicing professional with high responsibilities in managing an organization within biomedical engineering discipline. A graduate in this master programme will have a capability to continue education through special training, professional licensure, or additional certifications; or engaged in post-graduate study towards a doctoral degree in biomedical field.
Master of Science – Program Flowchart by Academic Office
This programme flowchart can be used as a guideline for students to ensure that they are well informed on action items which need to be fulfilled during their active semester. This is also to avoid any late subject registration at the beginning of every semester and to assist all students with their research timeline towards graduate on time (GOT)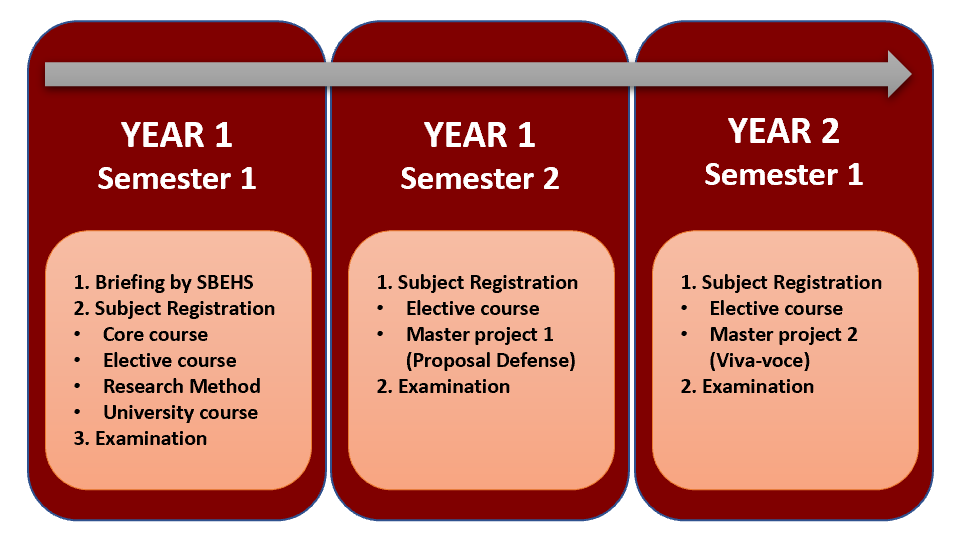 1.   Awarding Institution
Universiti Teknologi Malaysia
2.   Teaching Institution
Universiti Teknologi Malaysia
3.   Programme Name
Master of Science (Biomedical Engineering)
4.   Final Award
Master of Science (Biomedical Engineering)
5.   Programme Code
MMBC
6.   Professional or Statutory Body of Accreditation
Malaysian Qualification Agency Engineering Accreditation Council
7.    Language(s) of Instruction
English
8.   Mode of Study (Conventional, distance learning, etc)
Conventional (Coursework)
9.   Mode of operation (Franchise, self-govern, etc)
Self-governing
10. Study Scheme (Full Time/Part Time)
Full Time
11. Study Duration
Minimum: 1.5 years
Maximum: 3 years
Programme Educational Objectives (PEO)
| | |
| --- | --- |
| PEO | Programme Educational Objectives |
| PEO1 | Mastery of knowledge and competency in advanced areas of Biomedical Engineering field. |
| PEO2 | Professionalism and high standards of ethical conducts within organization and society. |
| PEO3 | Responsive to changing situations by continuously acquiring new knowledge and skills |
Programme Learning Outcomes (PLO)
After having completed the programme, graduates should be able to demonstrate the following competencies:
| | |
| --- | --- |
| PLO | Programme Learning Outcomes |
| PLO1 | (Knowledge and Understanding) – Attain advanced knowledge to solve critical issues of a field in Biomedical Engineering. |
| PLO2 | (Cognitive skills) – Critically solve and manage complex problems using systematic approaches. |
| PLO3 | (Practical Skills) – Adapt technical and scientific skills to solve problems in a field of Biomedical Engineering. |
| PLO4 | (Interpersonal skills) – Demonstrate effective collaboration with stakeholders professionally. |
| PLO5 | (Communication skills) – Use a broad range of information, media and technology to support study and research findings. |
| PLO6 | (Digital Skills) – Competently use digital technologies and software to support research works or studies. |
| PLO7 | (Numerical Skills) – Analyse numerical and graphical data using quantitative or qualitative tools in solving problems. |
| PLO8 | (Leadership, Autonomy and Responsibility) – Demonstrate leadership, autonomy and responsibility in conducting and managing research and resources. |
| PLO9 | (Personal Skills) – Exemplify self-advancement through continuous academic development. |
| PLO10 | (Entrepreneurial Skills) – Initiate entrepreneurial project with relevant knowledge and expertise. |
| PLO11 | (Ethics and Professionalism Skills) – Demonstrate respectable ethical research conducts and professionalism skills in an organization and society. |
Bachelor Degree in Engineering (Biomedical, Electrical, Mechanical, Computer), Science (Physics, Biology, Chemistry, Mathematics, Medical and Health), Medical or other related disciplines from UTM;
OR
Other recognized Higher Learning Institution with CGPA ≥ 3.0 or equivalent. For CGPA < 3.0, relevant work experience is needed
English Language Requirements (FOR INTERNATIONAL STUDENTS)
An International student candidate is required to have a minimum qualification of the Test of English as a Foreign Language (TOEFL) of 550 or International English Language Test System (IELTS) of band 6.0 or Malaysian Universities English Test (MUET) of band 4.0. Exemption may be given to those who originate from countries whose native language is English or who graduated from English-speaking countries. Those who do not meet the minimum requirement must attend and pass the Intensive English Programme before they are allowed to proceed with their respective programs of study.
For the award of Master of Science (Biomedical Engineering), students should achieve a total minimum of 45 credit hours with minimum CPA of 3.00.