Bachelor of Engineering ( Biomedical ) with Honours
The Bachelor of Engineering (Biomedical) with Honours is offered on a full-time basis. There is a growing demand for technical professionals who can effectively integrate the fields of biomedical science and engineering. Professionals who are capable of understanding medical problems within the context of engineering sciences will be able to solve problems that are of interest to both engineers and medical practitioners.
This new field of biomedical engineering has made significant contributions to technological advancement in various fields of medicine and healthcare.  These include the creation and production of artificial human parts, communication aids and assistive tools for people with disabilities, new diagnostic and therapeutic tools that lead to new medical procedures, etc. Technology in medicine has advanced so much that, today, there are countless medical devices specifically designed for home use.
The Biomedical Engineering bachelor programme is a mixed curriculum of engineering and biomedical sciences. The course contents for 1st year and 2nd year are geared towards the principles and fundamentals of biomedical engineering and sciences, such as Introduction to Biomedical Engineering and Basic Anatomy & Physiology; while also learning general engineering courses such as Engineering Mathematics and Digital Electronics. Students are also required to take general university courses such as Academic English Skill and Islamic & Asian Civilization.
In the 3rd year students will be exposed to more specialised courses such as Biomedical Instrumentation & Measurement, Clinical Engineering, and Biomedical Materials. In the final 4th year, students will be further reinforced in the field of biomedical engineering through courses like Biomedical Systems Design, Biochemistry for Biomedical Engineers and Biomedical Signal Processing. Students will also be required to take three elective courses such as Rehabilitation Engineering, Biosystems Modelling, and Medical Informatics. In addition, students in the final year are required to complete a Final Year Project (FYP), Professional Practice in Biomedical Engineering and Entrepreneurship. All these courses are designed and structured to produce a competent and reliable biomedical engineer.
Graduates of this course can find work opportunities in hospitals, companies involve in biomedical products, either manufacturing them, sales and service, or R&D, Ministry of Health, Malaysia, and any other party interested in health care. Among the job opportunities available to the biomedical engineer are:
Government regulators to oversee the implementation of the Medical Devices Act when it is enacted.
Engineers in hospitals or medical centers responsible for the procurement, maintenance and usage of medical devices.
Sales engineer of biomedical devices.
Engineers involve in R&D in biomedical engineering.
Engineers to perform test and calibration services.
Engineers involve in the manufacturing of medical devices.
Engineers in the Ministry of Health,Malaysia,responsible for the planning,management and operation of the engineering services of the public health care sector.
1.   Awarding Institution
Universiti Teknologi Malaysia
2.   Teaching Institution
Universiti Teknologi Malaysia
3.   Programme Name
Bachelor of Engineering (Biomedical) with Honours
4.   Final Award
Bachelor of Engineering (Bio-Medical) with Honours
5.   Programme Code
SEBB-01
6.   Professional or Statutory Body of Accreditation
Malaysian Qualification Agency Engineering Accreditation Council
7.    Language(s) of Instruction
English and Bahasa Melayu
8.   Mode of Study (Conventional, distance learning, etc)
Conventional
9.   Mode of operation (Franchise, self-govern, etc)
Self-governing
10. Study Scheme (Full Time/Part Time)
Full Time
11. Study Duration
Minimum: 4 years
Maximum: 6 years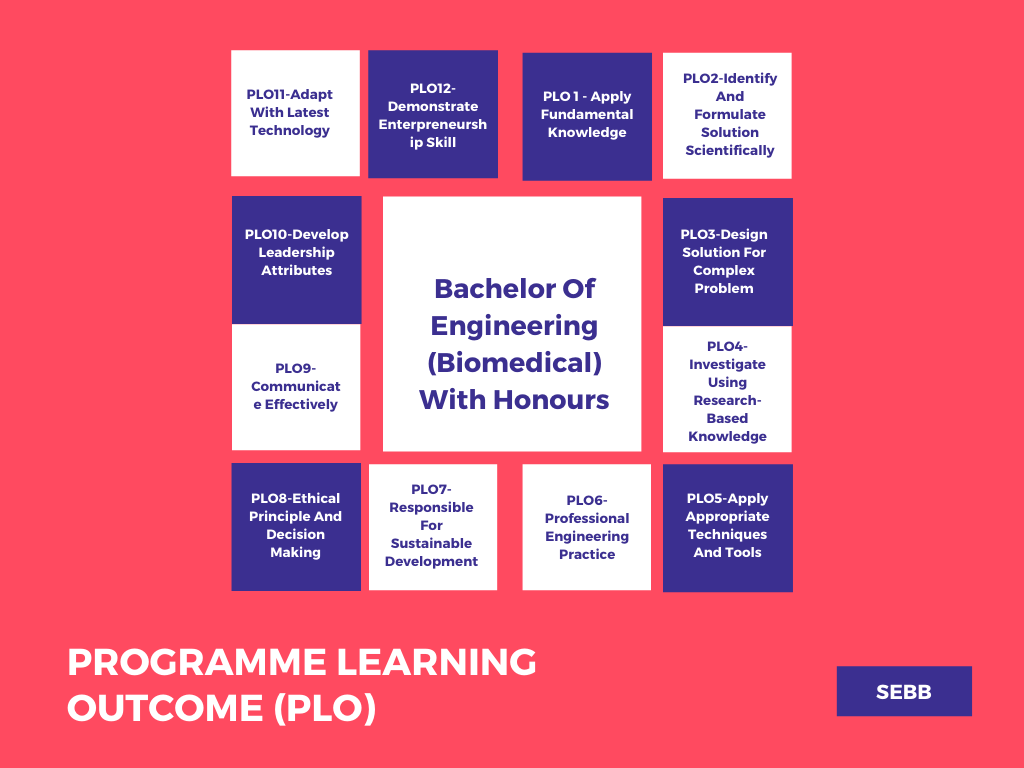 Programme Educational Objectives (PEO)
| | |
| --- | --- |
| Code | Programmed Educational Objectives |
| PEO1 | Biomedical engineers with competency to work in biomedical industry. |
| PEO2 | Biomedical engineers with leadership positions in the biomedical engineering sector |
| PEO3 | Biomedical engineers embrace professional development through biomedical engineering practice and life-long learning. |
| PEO4 | Biomedical engineers who conduct their professional work ethically and contribute towards societal responsibilities. |
Programme Learning Outcomes (PLO)
After having completed the programme, graduates should be able to demonstrate the following competencies:
Code
Program Learning Outcomes
PLO1
Apply knowledge of science and engineering fundamentals to the solution of complex biomedical engineering problems.
PLO2
Identify, formulate and solve complex biomedical engineering problems through structured literature reasearch and scientific approach using first principles of mathematics, natural sciences and engineering sciences.
PLO3
Design solutions for complex biomedical engineering problems with consideration for public health and safety, cultural, societal and enviromental needs.
PLO4
Conduct investigation into complex Biomedical Engineering problems using research-based knowledge and methodology to provide scientific conclusions.
PLO5
Select and apply appropriate techniques, resources and modern medical engineering and IT tools, to complex biomedical  engineering activities with an understanding of the limitations.
PLO6
Apply reasoning informed by conttextual knowledge to assess societal , health, safety, legal and cultural issues to professional biomedical engineering practice.
PLO7
Understand the role of biomedical engineering in society regarding social, cultural , environmental and global responsibilities for sustainable development.
PLO8
Ability to evaluate and make appropriate professional decision by taking into account ethical principles social and environmental responsibilities.
PLO9
Communicate effectively on complex engineering activities through written, oral, visual and
graphical forms to colleagues and society at large.
PLO10
Develop leadership attributes and be committed in achieving common goals in multi-disciplinary
setting using good team working skills.
PLO11
Ability to adapt with the latest development within the biomedical engineering field for life-long
learning and continuous knowledge improvement.
PLO12
Demonstrate knowledge and understanding of management and financial aspects of
biomedical engineering and develop entrepreneurship skills.
For Malaysian Students
General Entry Requirements:
A pass with credit in Bahasa Melayu/ Bahasa Malaysia at SPM level, and
A pass in Malaysian Higher School Certificate (STPM) with at least C grade (CGPA 2.00) in General Paper and C grade (CGPA 2.00) in any two of the taken subjects in the STPM, or
A pass in STAM Qualification for at least Jayyid level, or
A pass in Malaysian Matriculation Certificate / Foundation with minimum CGPA of 2.00, or
Hold A – Level / International Baccalaureate / Australian Matriculation (Ausmat) Certificate, or
Hold Diploma / Equivalent recognized by Malaysian government and approved by the University Senate or a pass in Malaysian Higher School Certificate (STPM) with at least C Grade (CGPA 2.00) in General Paper and C Grade (CGPA 2.00) in any two of the taken subject in the STPM, or
Hold Diploma Vokasional recognized by Malaysian government and approved by the University Senate, or
Attained a minimum Band 2 in Malaysian University English Test (MUET).
Special Requirements for the Programme
Comply to university general requirements, and
Comply to special requirements for the programme. Please refer to https://admission.utm.my/entry-requirements-ug-malaysian/ for further details.
Do not have any physical disabilities
For International Students
General Entry Requirements:
A Senior High School Certificate/Senior Secondary School/other equivalent pre-university qualifications from government schools (with a period of at least 12 years of study from primary to higher secondary). Refer to https://admission.utm.my/general-entry-requirement/ for further details.
Participate in the bridging program organized by the university, and
Attained a minimum Band 3 in Malaysian University English Test (MUET)/ Band 5.5 in IELTS/ Score of 46 in TOEFL iBT.
Pass the Health requirements.
Please refer to admission.utm.my/entry-requirements-ug-international/ for further details.
Note: -Year of entry and duration of study will be based on the credit exemptions or credit transfer awarded by the university.
To graduate, students must:
Attain a total of not less than 138 credit hours with a minimum CGPA of 0.
Professional Skill Certificate (PSC)
How to Get Yourself Employed (HTGYE)
ISO 9001: 2008 Quality Management System Requirement (ISO)
Occupational Safety and Health Awareness (OSHA)
How to Manage Your Personal Finance (HTMYPF)
Test of English Communication Skills for Graduating Students (TECS):
(i)      TECS 1001 (Paper I – Oral Interaction)
(ii)     TECS 1002 (Paper II – Writing)
Overall Flowchart As SEBB Student (1st Intake-October)

Overall Flowchart As SEBB Student (2nd Intake-March)

Bachelor Of Engineering (Biomedical) Handbook