History
Universiti Teknologi Malaysia (UTM) menggabungkan Fakulti Biosains dan Bioperubatan (FBB) dengan Fakulti Kejuruteraan Bioperubatan dan Sains Kesihatan (FKBSK) menjadi sebuah fakulti baru berkuat kuasa pada sesi pengajian 2012/2013 yang bermula bulan ini.
Naib Canselor UTM, Prof. Datuk Dr. Zaini Ujang berkata, fakulti baru berkenaan dikenali sebagai Fakulti Biosains dan Kejuruteraan Perubatan (FBME).
"Menerusi penggabungan itu, sistem pengajaran dan pembelajaran akan dapat diperkukuhkan memandangkan terdapat kesamaan bidang kepakaran seperti biokimia, biosensor dan permodelan biologi. "Langkah berkenaan mampu menjimatkan kos emolumen sehingga lebih RM200,000 setahun kepada UTM tidak termasuk kos pengurusan dan pentadbiran," katanya dalam kenyataan di sini hari ini.
Zaini berkata, bangunan FBB yang terletak di Kluster Penyelidikan di kawasan kampus akan dijadikan bangunan utama FBME yang menempatkan pejabat pentadbiran, pengurusan sumber manusia dan akademik.
Menurutnya, bangunan berkenaan turut menempatkan makmal dan peralatan untuk program prasiswazah, kemudahan pengajaran dan pembelajaran untuk 700 mahasiswa termasuk cawangan Perpustakaan Sultanah Zanariah. "Pelbagai peralatan ditempatkan di bangunan berkenaan yang dijadikan tempat utama mahasiswa prasiswazah dan pasca siswazah menjalankan kerja kursus kerana kedudukannya di dalam kampus.
"Sementara itu, bangunan FKBSK yang terletak di Taman Universiti menjadi bangunan satelit yang dilengkapi dengan makmal dan peralatan untuk menjalankan penyelidikan dalam bidang bioperubatan," katanya.
Bermula sesi pengajian 2018/2019, FBME ditukar nama kepada Sekolah Kejuruteraan Bioperubatan dan Sains Kesihatan (SKBSK). Kini SKBSK yang mempunyai 40 orang staf akademik dan dibantu oleh 20 orang staf bukan akademik menawarkan pelbagai program akademik di peringkat pra-siswazah dan pasca-siswazah.
Timelaps
2009: The Faculty of Biomedical Engineering & Health Sciences (FKBSK) has been established and led by Prof. Ir. Dr. Sheikh Hussain bin Shaikh Salleh and was first located at P23 Building, Universiti Teknologi Malaysia (UTM).
2012: UTM merged two of its main research faculties, Faculty of Bioscience and Bioengineering (FBB) in T02 Cluster Building and Faculty of Biomedical Engineering and Health Sciences (FKBSK) in V01 Satellite Building. The new faculty was known as the Faculty of Bioscience and Medical Engineering (FBME).
2018: In recent UTM Synergy 4.0 strategy, FBME was then renamed to the School of Biomedical Engineering and Health Sciences (SKBSK) and is now part of Faculty of Engineering, the largest faculty in UTM.

Keratan akhbar pada tahun 2012.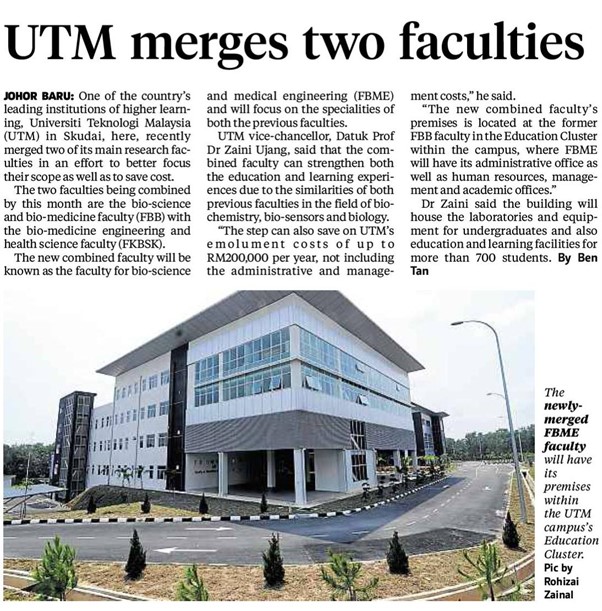 Keratan akhbar pada tahun 2012.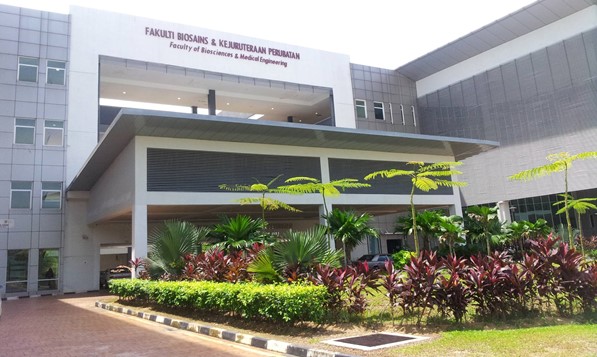 Bertukar nama kepada Fakulti Biosains dan Kejuruteraan Perubatan (FBME) 2012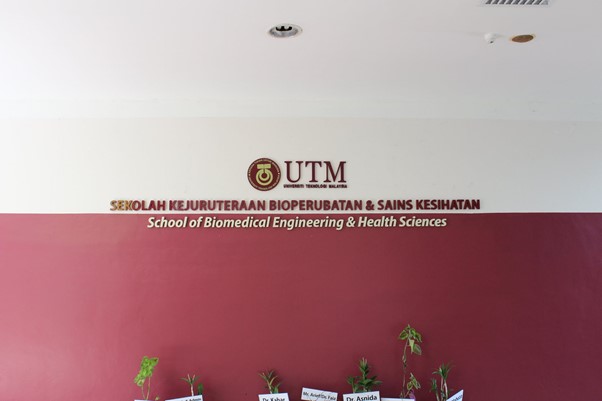 Sekali lagi bertukar nama kepada Sekolah Kejuruteraan Bioperubatan dan Sains Kesihatan (SKBSK) 2018
MANTAN DEKAN DAN PENGERUSI SKBSK
Prof. Ir. Dr. Sheikh Hussain bin Shaikh Salleh
2009 – 2012
Professor Dr. Jasmy bin Yunus
2012 – 2017
Prof. Ir. Dr. Mohammed Rafiq bin Dato' Abdul Kadir
2017-2018
Prof. Dr. Kahar bin Osman
2018 – 2021
Dr.  Ahmad Zahran bin Md. Khudzari
2021 – until now