DEPARTMENT OF CONTROL AND MECHATRONICS ENGINEERING (CMED)
Welcome New Students 2022/2023 Session
Master Double Degree UTM & University of Burgundy
Congratulations 2019 ROBOCON Team!
UTM Robocon Team represented Malaysia in the 2018 ABU Robocon Competition in Vietnam
The Control and Mechatronics Engineering Department (CMED) is one of the largest in this region dedicated to the study of control, mechatronics, robotics and instrumentation engineering. The division, which currently consists of 37 academic staff members, provides teaching, research activities and engineering expertise in the related areas. There are 10 laboratories equipped with modern and sophisticated facilities dedicated  for teaching and research activities.
CMED ACADEMIC STAFF NUMBER
CMED RESEARCH GROUP MEMBER
Advanced Control RG (ACRG)
Process Tomography & Instrumentation (PROTOM-i)
Centre for Artificial Intelligence and Robotics (CAIRO)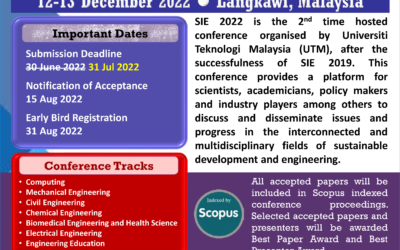 Dear Researchers, You are cordially invited to submit paper(s) to the Sustainable and Integrated Engineering International Conference (SIE2022),...
read more