CONTINUING EDUCATION IN POSTGRADUATE PROGRAMS
Accelerate Your Career through

FKE Weekend Programs

at Faculty of Electrical Engineering

New: Blended Learning Mode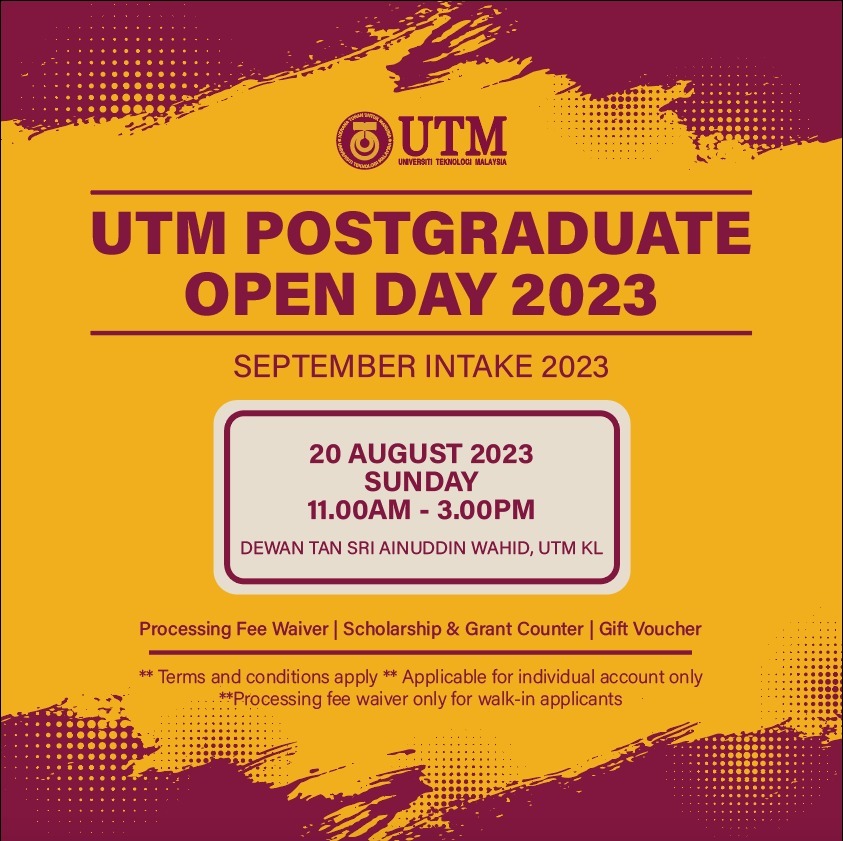 Master's programs (Persisir)
Faculty of Electrical Engineering (FKE), Universiti Teknologi Malaysia offers four Master's programs as weekends programs (PESISIR) at selected study centers. Classes are on weekends and are fully taught by our graduate faculties. These programs are accredited by the Malaysian Qualification Agency (MQA). The duration of study is between two to four years. The program fee is affordable and competitive.
NEW-Blended Learning Mode (2 online and 1 face-to-face classes)
Flexible solution for working engineers / professionals
Classes taught by Universiti Teknologi Malaysia faculty members
Accredited by Malaysian Qualification Agency (MQA)
Industry-driven, up-to-date curricula
Affordable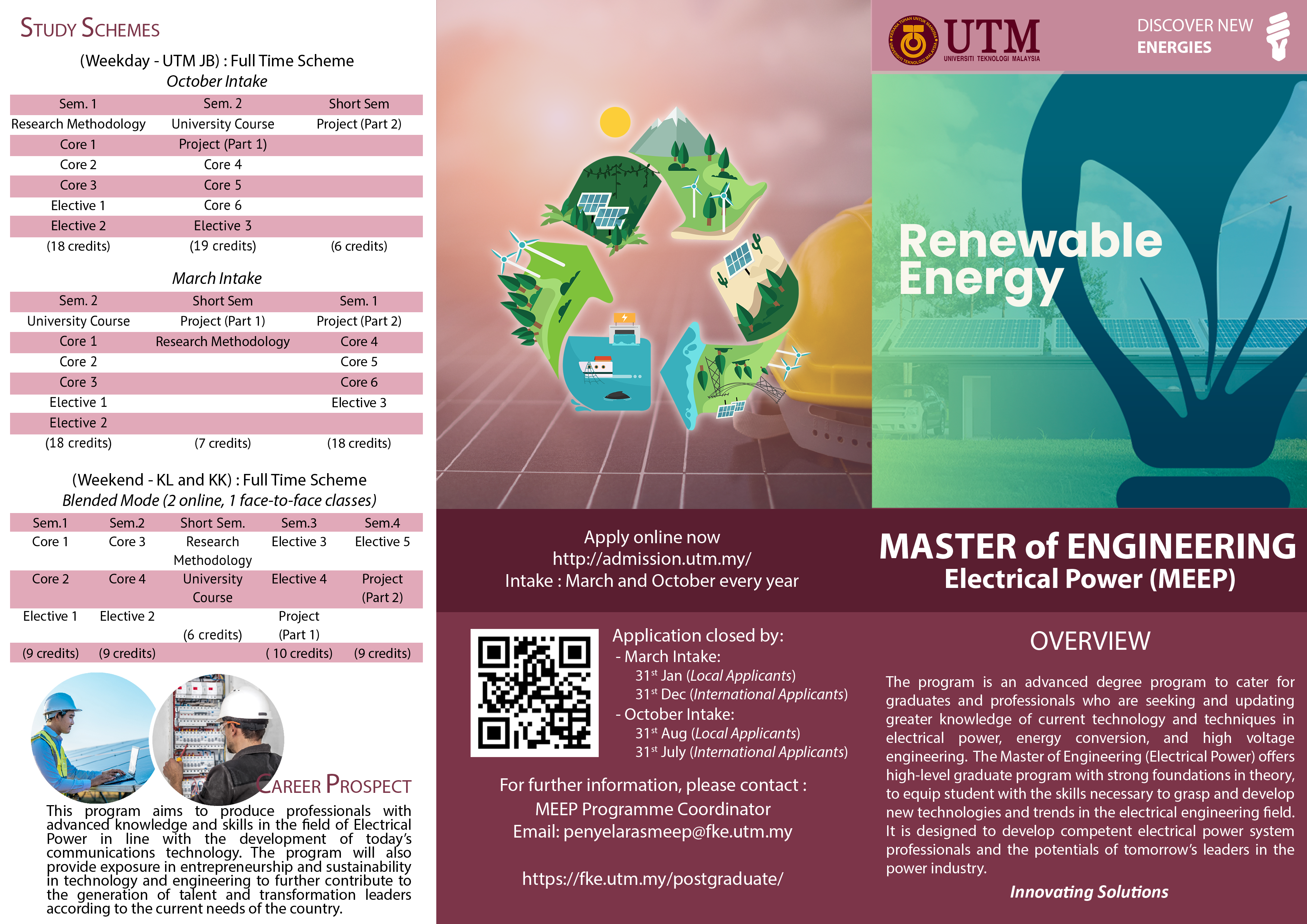 (currently offered in UTM Kuala Lumpur & Kota Kinabalu)
The program is an advanced degree program to cater for graduates and professionals who are seeking and
…

more

updating greater knowledge of current technology and techniques in electrical power, energy conversion, and high voltage engineering. This program offers high-level graduate program with strong foundations in theory, to equip student with the skills necessary to grasp and develop new technologies and trends in the electrical engineering field. It is designed to develop competent electrical power system professionals and the potentials of tomorrow's leaders in the power industry.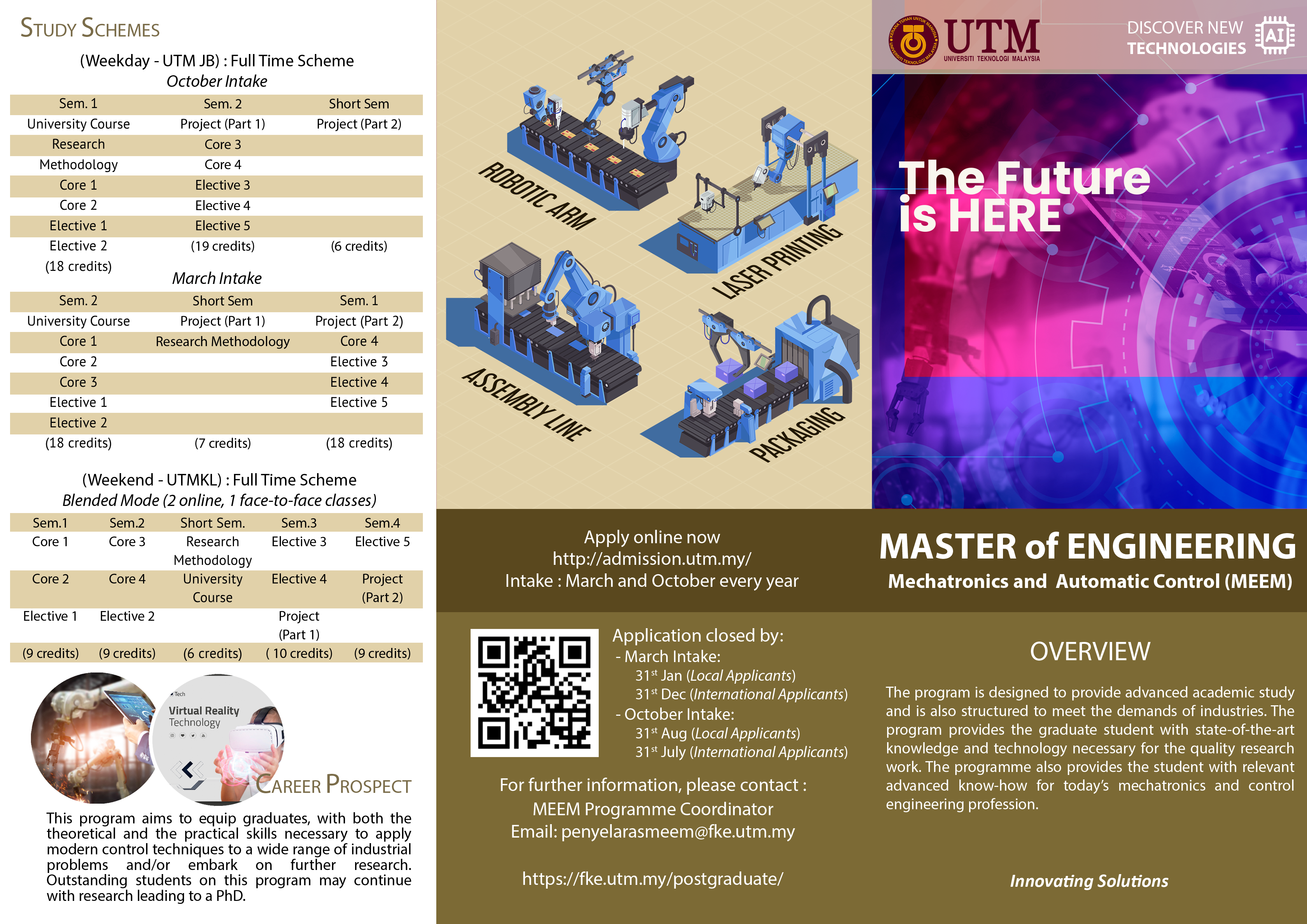 (currently offered in UTM Kuala Lumpur)
The program is designed to provide advanced academic study and is also structured to meet the demands of
…

more

industries. The program provides the graduate student with state-of-the-art knowledge and technology necessary for the quality research work. The program also provides the student with relevant advanced know-how for today's mechatronics and control engineering profession. This program aims to equip graduates, with both the theoretical and the practical skills necessary to apply modern control techniques to a wide range of industrial problems and/or embark on further research.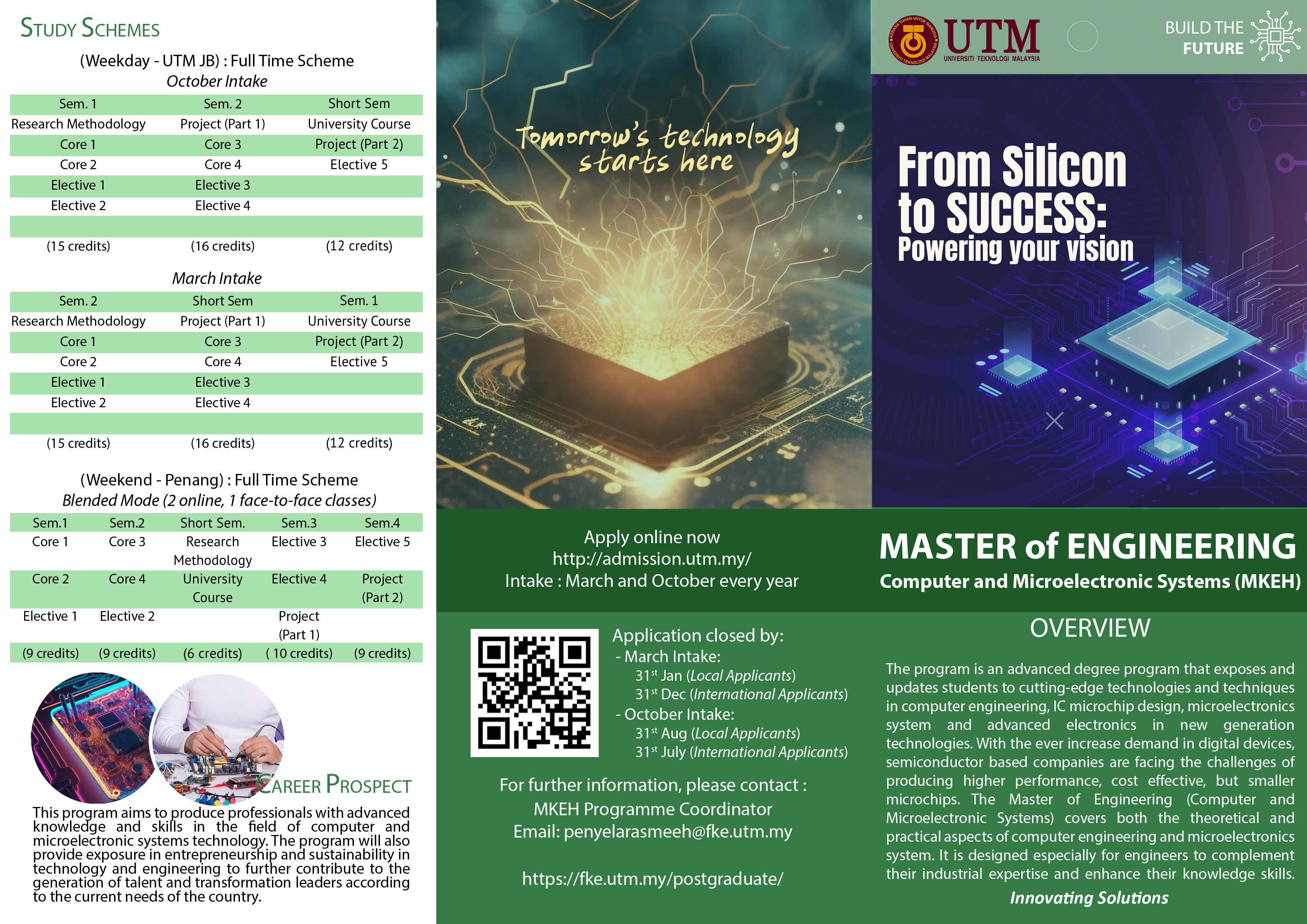 (currently offered in PSDC Penang)
This program is an advanced degree program that exposes students to cutting-edge technologies and techniques in
…

more

computer engineering, integrated circuit (IC) design, microelectronics system and advanced electronics for next generation applications. This program covers both the theoretical and practical aspects of computer engineering and microelectronics system. It is designed especially for engineers and researchers to complement their industrial expertise and to enhance their knowledge in this field.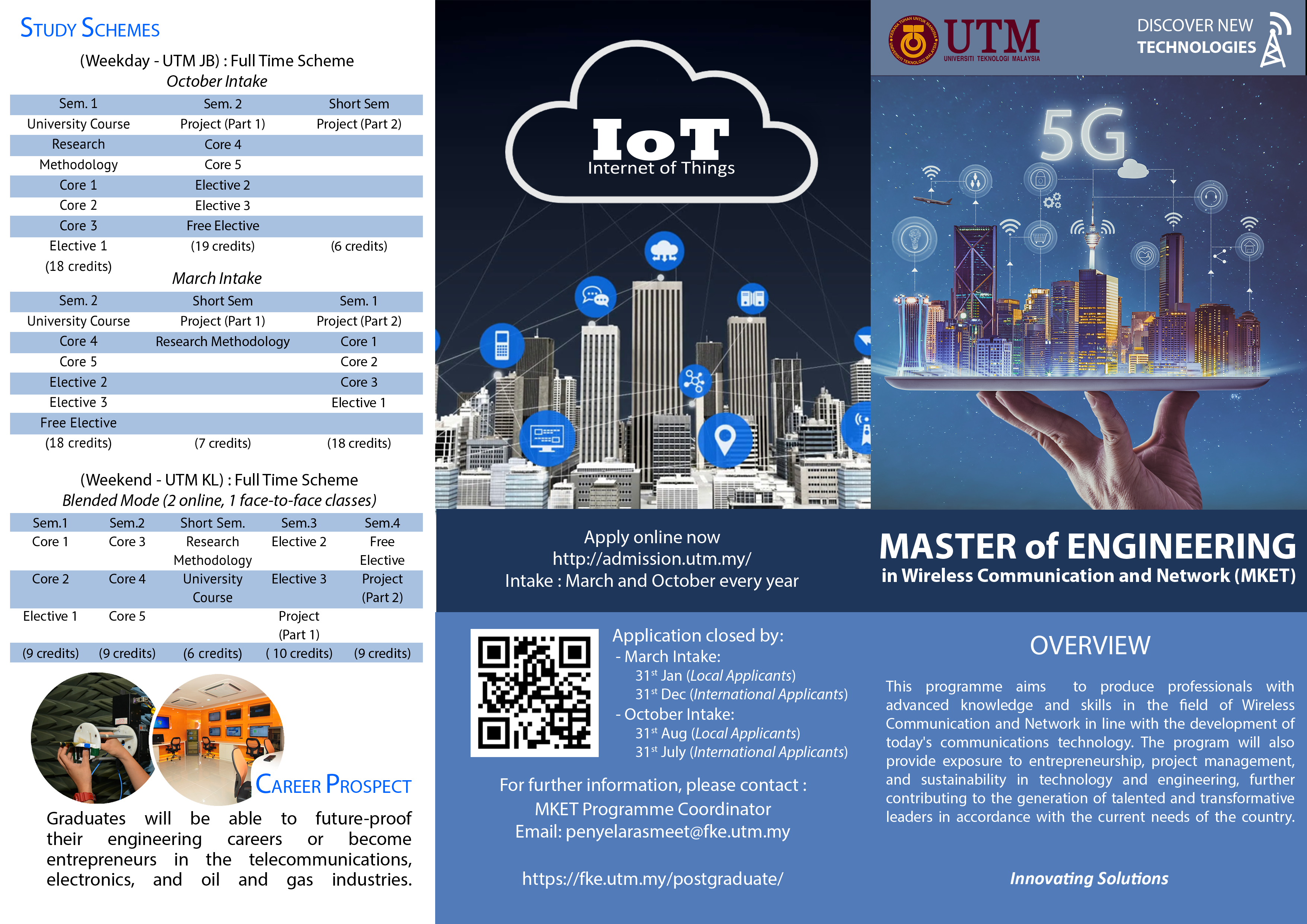 (currently offered in UTM Kuala Lumpur)
This program aims to produce professionals with advanced knowledge and skills in the field of Wireless
…

more

Communication and Network in line with the development of today's communications technology. The program will also provide exposure in entrepreneurship and sustainability in technology and engineering to further contribute to the generation of talent and transformation leaders according to the current needs of the country.
Study Centers
Weekends Masters by taught course programs (PESISIR) are available at the University's off-campus centers:
• Johor Bahru: Universiti Teknologi Malaysia main campus
• Kuala Lumpur: Universiti Teknologi Malaysia Kuala Lumpur
• Pulau Pinang: Penang Skills Development Center
• Kota Kinabalu: TBA
Table 1: Programs offered at selected centers
PROGRAM
STUDY CENTER for PESISIR
Kuala Lumpur
Pulau Pinang
Kota Kinabalu
MKEH
–
MKEHA1HPA
–
MKET
MKETA1HKA
–
–
MEEM
MEEMA1HKA
–
–
MEEP
MEEPA1HKA
–
MEEPA1HSA
Admission Requirement
Entry to the program requires a bachelor's degree in electrical engineering or equivalent from a tertiary institution recognized by UTM and Board of Engineers. Minimum requirement is 3.0/4.0 for fresh graduate or 2.7/4.0 for applicant with 2 years' experience, or 2.5/4.0 for candidate with 4 years related experience. Expatriates may also apply admission to our program.
Program Structure
Students must complete 43 credits and achieve a final CGPA of at least 3.0 in order to be awarded Master of Electrical Engineering.
Table 2: Credit hours for each course
Courses
Number of courses
Credit hours per course
Total credit hours
MKEH
MEEM
MKET
MEEP
MKEH
and MEEM
MKET
MEEP
Compulsory
4
5
6
3
12
15
18
Elective
4
3
2
3
12
9
6
Free Elective*
1
1
1
3
3
3
3
University Elective
1
1
1
3
3
3
3
Research
Methodology
1
1
1
3
3
3
3
Master's Project
Project 1
4
10
10
10
Project 2
6
Total credits to graduate
43
Note: Students may register one free elective from any program offered by the facult
Program Structure (T)
Program Structure
PROGRAM
MKEH
MKET
MEEM
MEEP
Compulsory courses

Advanced Digital System Design
Advanced Microprocessor System
Analogue CMOS Design
Nanoelectronic Devices

Sustainable Design, Engineering & Management

Internet of Things Technologies

Wireless Communication Systems

Communication and Computer Networks

RF/Microwave and Antenna Design

Control Systems Engineering

Embedded Control Systems

Artificial Intelligence and Applications

Advanced Instrumentation and Measurement

Power System Apparatuses and Devices

Power Electronics Systems

Power System Analysis and Computational Methods

High Voltage and Electrical Insulation

Intelligent Engineering Solution

Engineering Project Management

Elective courses

Advanced Computer Architecture

Advanced Digital Signal Processing

Hardware and Software Co-Design

Image Processing

Integrated Circuit Testing

Random Process

Software Engineering

Special Topic in Electronic Engineering

Speech Processing

VLSI Circuits & Design

VLSI Design Automation

Broadband Multimedia Networks

Satellite Communication

Network Modeling & Performance

Advanced Digital Communications

Computer and Network Forensics

Advanced Antenna Design

Microwave and Millimeter Wave System Design

Advanced Optical Fiber Communication

Optical Communication Networks

Entrepreneur-ship for Telecommunica-tion Industry

Nonlinear and Robust Control Systems

System Identification and Adaptive Control

Advanced Process Control

Model Predictive Control

Linear Control System Design

Autonomous Mobile Robotics

Advanced Robotics

Mechatronic Design

Sensors and Actuators

Smart Manufacturing

Embedded Systems for Innovative Product Design

Rapid Prototyping and Simulation

Cyber Physical System

Deep Learning

Intelligent Vision System

Power Electronics Applications

Electrical Drives

Advanced Power System Control

Power Systems Security & Deregulated Market

Lightning Protection & Grounding System

Integrated Resource Planning in Energy Sector

Special Topic in Power Engineering

Power System Protection

Alternative Energy Systems and Technologies

Advanced High Voltage Technology

Power Quality
Attractive Class Schedule
Our fulltime program can be completed within 2 years (four normal semesters and one short semester). Admission is in February and September every academic year. Each normal semester has 15 weeks lecture, and 3 weeks final examination weeks. Short semester is for 8 weeks starting July.
Classes are conducted on Saturday and Sunday at all study centers. Each course will typically occupy 3 weekends for Kuala Lumpur and Penang study centers, i.e., taking 3 courses will occupy 9 weekends per semester. For Johor Bahru center, each course will be on 4 weekends. Classes will be held as blended learning mode: 2 online classes and 1 face-to-face (starting 20232024 sem1).
Due to different weekend depending on states, our classes for a 3-credit course are scheduled as follows:
Johor Bahru: 4 classes on Saturday and 1 class on Sunday. Classes are from 8.30 a.m. until 6.30 p.m. including lunch break.
Kuala Lumpur: 3 classes on Saturday from 2.00 p.m. to 10.00 p.m. including dinner break; and 3 classes on Sunday from 9.00 a.m. to 6.00 p.m. including lunch break.
Penang: 3 classes on Saturday and 3 classes on Sunday from 9.00 a.m. to 6.00 p.m. including lunch break.
Table 3: Suggested stud plan e.g., for MKEH (October Intake)
Sem. 1
Sem. 2
Short sem.
Sem. 3
Sem. 4
Compulsory 1
Compulsory 3
University
elective
Elective 3
Elective 5
Compulsory 2
Compulsory 4
Research Methodology
Elective 4
Project 2
Elective 1
Elective 2
Project 1
(9 credits)
(9 credits)
(6 credits)
(10 credits)
(9 credits)
Fees
Our fee structure is very competitive. The estimated fee for JB is RM19.5k, KL for RM23k, and Penang for RM28k. The fee covers fee to complete 43 credits in 2-year study period. Payment for additional fees is required for repeat courses or semester extension. The university has the right to increase the fee (term & condition apply).
Information and Application
For further information, please contact:
PESISIR Programme Coordinator (MKEH, MKET, MEEM or MEEP)
Email: penyelarasmeeh@fke.utm.my, penyelarasmeet@fke.utm.my penyelarasmeem@fke.utm.my, penyelarasmeep@fke.utm.my
Or
Email us : Joinus@fke.utm.my
Tel: +6019-6886235
More Info: https://www.admission.utm.my
https://fke.utm.my/postgraduate/
Follow us: IG: study@utm and fke_utm
fb: studyatutm and ee.utm.my