Bachelor of Electronic Engineering with Honours
A rapid development in electronics, computer and telecommunication industry is one of the major contributors to the Malaysian economy.  Rapid development has enabled the electronic, computer and telecommunication industry to flourish. This means that more and more competent electronic graduates are required, to meet the growing demand of skilled manpower. The requirements towards professionals in this field, is gradually intensifying and it is predicted that the need will be continued in the next few years.
Electronic Engineering is a vast area of studies and is gradually expanding. Graduates undertaking this program will face a demanding professional career ahead. Various courses are being offered within the program with the intention of preparing graduates with sufficient knowledge in electronic field.
Bachelor of Electronics Engineering with Honours offered by School of Electrical Engineering is accredited and recognized by the Board of Engineers Malaysia (BEM). Graduates from the Bachelor of Electronics Engineering with Honours may apply to to register with the Board of Engineers Malaysia, as graduate engineer in the engineering field as shown in table below.
The Programme Educational Objectives (PEOs) are statements that describe the expected graduates' achievements after a few years of graduation. Table 1 shows the educational objectives for the programmes offered by School of Electrical Engineering and its targets of achievement.
Table 1: Programme educational objectives and the targets
PEO
Graduates of the programme are able to:
Target
(measured at least five years after graduation)
PEO1
Become Electronic Engineers who are competent, innovative, and productive in addressing customer needs.
60% of graduates work as engineers
AND
10% of graduates work as senior engineer
PEO2
Grow professionally with proficient soft skills.
5% of graduates pursued post-graduate studies or enrolled in self-improvement or skill-based workshops (or equivalent)
AND
1% of graduates become Professional Engineers or attain equivalent professional qualification
PEO3
Demonstrate high standards of ethical conduct, positive attitude, and societal responsibilities.
10% of graduates are involved in services to community
The School of Electrical Engineering has set a five (5) year period after graduation for the assessment of PEO achievement. Alumni Survey and Employer Survey are two indirect assessments that have been used to measure the achievement of PEOs. The Employer Survey is meant to obtain feedbacks from the industries on performance of our alumni with respect to the PEOs whereas Alumni Survey is meant to get info about the alumni's professional development.
Students of the Bachelor of Electronic Engineering with Honours programme are expected to have the following outcomes:
Ability to apply knowledge of mathematics, science and electrical/electronic engineering to the solution of complex engineering problems.
Ability to perform research-based analysis, conduct experiments and interpret data for complex engineering problems.
Ability to identify, formulate, conduct research literature to analyse complex engineering problems using engineering knowledge.
Ability to apply engineering practice and use modern engineering, and IT tools for complex engineering problem with an understanding the limitations of the technology.
Ability to design solutions for complex engineering problems and design systems and processes that meet specified needs with appropriate consideration for public health and safety, culture, society, and environment.
Ability to articulate ideas, communicate effectively, in writing and verbally, on complex engineering activities with the engineering community and with society at large.
Ability to function effectively as an individual, as a member or as a leader in diverse teams.
Ability to recognise the need for, and have the preparation and ability to engage in independent and life-long learning in the broadest context of technological change.
Ability to comprehend the impact of global and contemporary issues, the role of engineers on society including, health, safety, legal and cultural issues, and the consequent responsibilities relevant to professional engineering practices and engineering problems.
Ability to comprehend and evaluate the sustainability and impact of professional engineering work in the solutions of complex engineering problems in societal and environmental contexts.
Ability to grasp and execute responsibility professionally and ethically in professional engineering practices.
Ability to demonstrate knowledge and understanding of engineering and management principles, and economic decision-making to manage projects in multidisciplinary environments.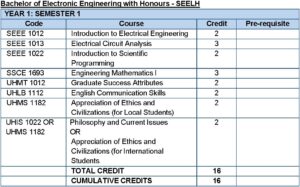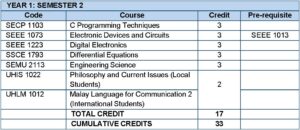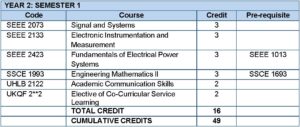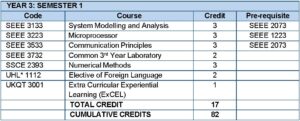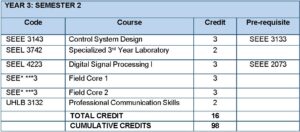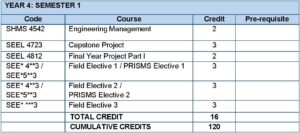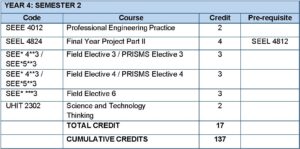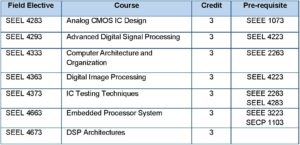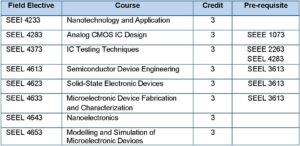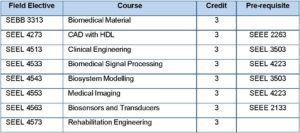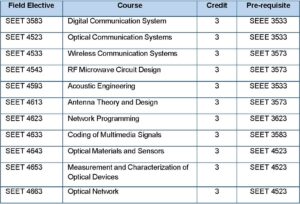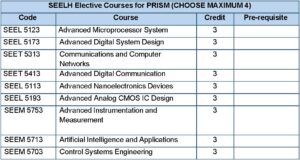 BACHELOR OF ELECTRONIC ENGINEERING WITH HONOURS
PROGRAMME SPECIFICATIONS
The Bachelor of Electronic Engineering with Honours is offered either on a full-time or parttime basis. The full-time programme is offered only at the UTM Main Campus in Johor Bahru while the part-time programme is offered at various learning centres throughout Malaysia. The duration of study for the full-time programme is subjected to the student's entry qualifications and lasts between four (4) years to a maximum of six (6) years.
The programme is offered on full-time basis and is based on a 2-Semester per academic session. Generally, students are expected to undertake courses equivalent to between fifteen (15) to eighteen (18) credit hours per semester. Assessment is based on courseworks and final examinations given throughout the semester.
1.  Awarding Institution

Universiti Teknologi Malaysia
2.  Teaching Institution
Universiti Teknologi Malaysia
3.  Programme Name

Bachelor of Electronic Engineering with

Honours

4.  Final Award

Bachelor of Electronic Engineering with

Honours

5.  Programme Code
SEELH

6.  Professional or Statutory Body of

Accreditation

Board of Engineers Malaysia (BEM)
7.  Language(s) of Instruction
English and Bahasa Melayu

8.  Mode of Study (Conventional,

distance learning, etc)

Conventional

9.  Mode of operation (Franchise,

self-govern, etc)

Self-governing

10. Study Scheme (Full Time/Part

Time)

Full Time
11. Study Duration

Minimum :  4 yrs

Maximum : 6 yrs

Type of Semester
No. of Semesters
No of Weeks/Semester

Full

Time

Part

Time

Full

Tme

Part Time
Normal
8
–
18
–
Short
4
–
10
–
Electronic, telecommunication and ICT industry has been identified as one of the potential industrial area for further development in the future. Currently, there is a huge demand for electronic engineer hence the prospect of work for graduates completing Bachelor of Engineering (Electrical-Electronics) are potentially high especially with Revolutionary Industry 4.0 where the industries emphasis on cyber-physical system. Besides electronic and telecommunication companies, there are other info-technology-related firms requiring electronic engineering graduates.
Career opportunities for graduates can be found in the following areas:
Consumer electronic: Manufacturing of products such as TV, radio, DVD/CD/cassette players, cameras, handphones, printers etc.
Electronic component: Manufacturing of integrated /discrete circuit and failure assessment/analysis.
Telecommunication system: Development and manufacturing of telecommunication system products.
Computer products, network systems and information security: Manufacturing of computer and network systems and related equipment.
Research and Development: Local organizations, as well as multinational companies that have a research centre would require research engineers.
Secondary industry: Industries such as oil refinery, textiles, and food processing where their products depend on electronic systems.
Service industry: These include hospitals, transportation industries, broadcasting industries, and telecommunication industries where most equipment used are electronic-based.